Happy New Year! Out of all the products I tried in 2017, these are the ones I loved and found myself reaching for almost daily.

Although my husband might disagree, I try to keep my beauty products as organized as possible. I have a huge cupboard in my bathroom with multiple drawers and shelves to sort items by product type. In my office, I keep extra samples and new products. Favorite lipsticks and fragrances live on top of my dresser.
But I always keep my current favorites in a little box so I can grab just one set to get ready. If I like something enough, it stays in the box. So when I began to compile my list of favorite products from the past year, that's where I started.
These are the products I loved enough to use almost every day in 2017, so I highly recommend you try them too. Perhaps you'll find a new favorite of your own!
View & save all these products in your Lovelyloot app
The right fragrance has always been notoriously difficult for me to find. Many give me a piercing headache, while others make me smell like a grandmother. Chanel's Coco Mademoiselle (EDP; $75), thankfully, does neither! It's described as sexy, fresh and Oriental with top notes of bergamot, mandarin orange, orange and orange blossom; middle notes of turkish rose, jasmine and mimosa; and base notes of white musk, vetiver, vanilla, opoponax, patchouli and tonka bean. Quite the combination, but on me it works and smells lovely!
If you've ever gotten a sample of the Sol de Janeiro Bum Bum cream from Sephora, you know how delicious it smells! That's what inspired me to pick up the Brazilian Crush Body Fragrance Mist ($32) in the last VIB sale. Lots of people describe it as a summery scent, but with notes of salted caramel, pistachio and vanilla, to me it's more warm and cozy. It's a light everyday scent that just makes me happy to put on.
It took me awhile to embrace wearing bright lipstick, but once I discovered just how flattering an orange-red can be, I fell hard. This was also the first Charlotte Tilbury lipstick that I purchased. I didn't initially go in for this shade (Tell Laura; $32), but once the makeup artist applied it, I knew it was the one. It's super pigmented, long lasting and makes me feel fabulous. What more can you ask for in a lipstick?
Now that you know my obsession for orange-red lipsticks, you shouldn't be surprised at this next pick. The Maybelline x Gigi Hadid collaboration sold out so quickly online and in Ulta stores near me, so I was ecstatic to find one of the lip kits ($17) left in the exact shade I was looking for – Austyn – and to snag it during a 50% off sale during the holidays. I'm a huge fan of lipliner but had never bought a matching set before. This ensures you can get a precise shape and makes touch-ups simple. The formula on both of these is so nice that I hope they release more shades!
Last lipstick before we move on to another product type. Much as I love the brights, what I wear most often is a nude/mauve shade. This year I discovered the glamorously retro-inspired lipsticks from luxury vintage makeup brand Bésame Cosmetics. Nearly every shade is named after a year – Noir Red 1930, Red Velvet 1946, Chocolate Kiss 1970. They're all gorgeous, but my favorite is Dusty Rose 1969. It's way more than a nude and always brings me compliments.
My sister was the first person to turn me on to tarte's Amazonian Clay Waterproof Brow Mousse ($29) and when she lived with me, I used to borrow hers all the time until I finally caved and purchased my own. This mousse comes in a little pot like gel liner and is perfect for when you need more than a tinted gel to make your brows look amazing. It comes with a spoolie/angled brush, is easy to apply, and the shades are great. You can layer it to look more natural or defined…and it lasts forever!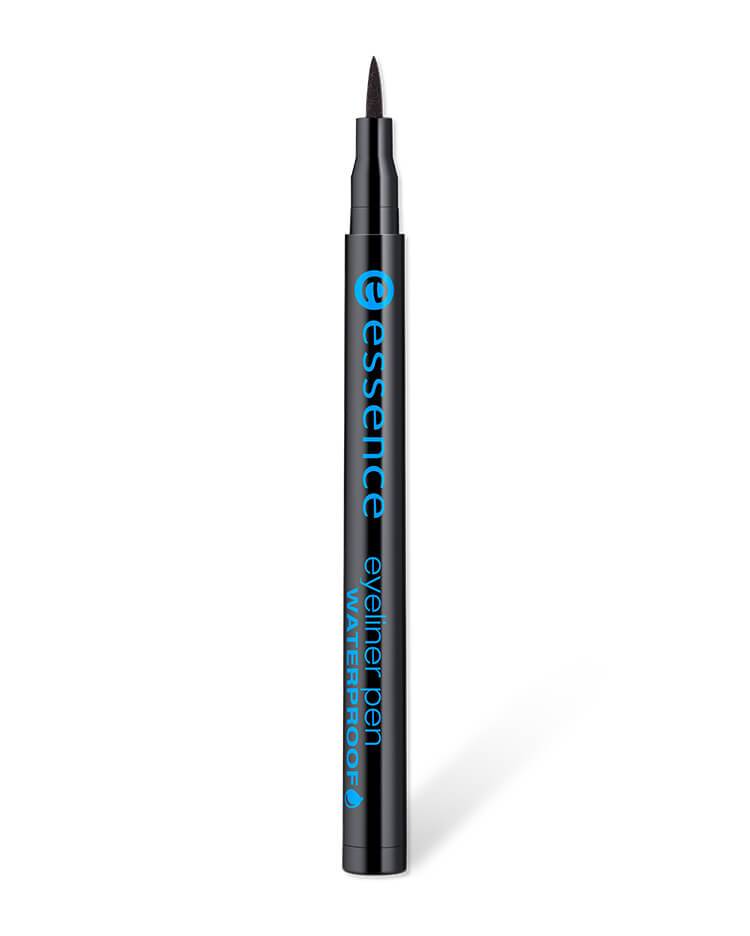 essence was a new brand that I discovered this year, and I can't get over the quality of the products for the price. This Waterproof Eyeliner Pen ($3) is an incredible liquid eyeliner. It's dark black, doesn't streak or pull, doesn't run or fade, and the tip is perfectly thin and firm. Hands down, it beats other liquid liners from Stila, Kat Von D, Too Faced, etc. that are $20 or more. There's no reason not to try this one.
I love eyeshadow. Even on the simplest makeup days, I almost always wear it – it just makes you look more put together with very little effort. But that doesn't mean I'm creating some fancy eye look with multiple shades! Most of the time, I just swipe on primer (Smashbox 24 Hour Photo Finish Shadow Primer, $20, is my favorite), a bit of this cream shadow from Charlotte Tilbury ($32), and some mascara. This color, an oyster-gold called Marie Antoinette, is so good that I haven't tried any of the other shades of this formula…though I really should!
Beauty Pie is another brand that I fell in love with this year. Created by serial beauty entrepreneur Marcia Kilgore, Beauty Pie is like Everlane for beauty, where they share their production costs with complete transparency. With a membership of $10/month you can purchase luxury products for factory cost. My new favorite mascara is their Flash False Lash Mascara (just $2.74 for members!) because it makes my lashes look amazing. And at that price, I'll actually replace it every few months like I should 😉
This is the other Beauty Pie product I now use every single day. Mixing just a few drops in with your foundation gives you such a nice subtle glow. Highlighter has never been an essential for me, but the Superstrobing Drops ($4.72 for members) are a completely different story. With this product, your skin just looks luminous, healthy and pretty…and who doesn't want that?
Earlier this year, I road tested 10 of the foundations on the "safe list" from my aesthetician. In my search to find a new foundation I loved that wouldn't make me break out, tarte's Amazonian Clay 12-Hour Full Coverage Foundation ($39) was the clear winner. Beautiful coverage, good shade range, sunscreen, and long-wear all ticked the boxes for my needs. My favorite way to apply it is using a damp Beautyblender to push it into my skin, layering when I need more coverage.
Every night, when I'm taking off my makeup, I start with this Vichy Micellar Solution ($17). I really only use it for my eye makeup, not my entire face, and haven't found anything that works better at removing everything before I cleanse. It's not the cheapest micellar solution out there, but it's definitely the best. Vichy makes some excellent skincare products and this is one that I happily repurchase over and over again.
I've tried a lot of clay cleansers over the years because I love how clean they make my skin feel. They're great at removing dirt and makeup, but can sometimes make your face feel tight and stripped afterwards. Not this one. Skinfix's Foaming Clay Cleanser ($15) definitely still breaks down and removes everything, but leaves your skin clean and soft at the end. This became my go-to nighttime cleanser this year.
I am VERY skeptical of natural deodorants. I love the idea of them, but I'm also a pretty sweaty person and don't want to rub paste in my armpits, so this was a total wild card at first. It was only after the deodorant / antiperspirant I'd been using forever stopping working and I'd tried several other drugstore options without finding a decent replacement, that I started to think a natural option might be doable. What attracted me to this one from Korres ($18.50) was the 4/5 stars rating on Sephora, the fact that it's a roll-on formula, and it doesn't have much of a scent. You'll still sweat, but not that bad – and you won't smell. That's a win.
Have you tried any of my favorites? Or do you have favorite products of your own to recommend? Leave a comment below – I'd love to hear about them!